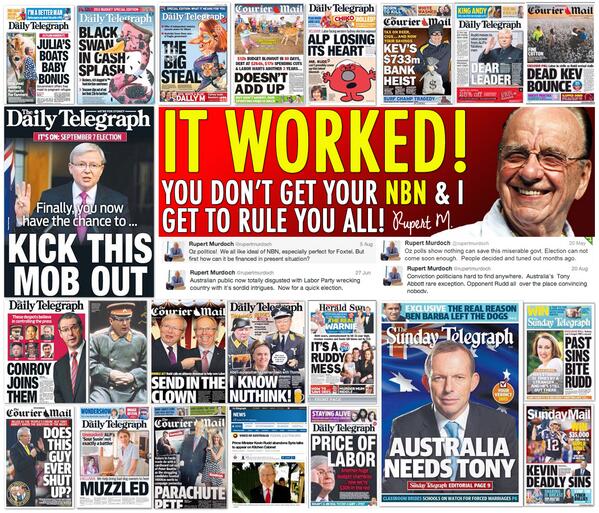 Image from @KieraGordan. *Thanks to Luc from Team Earthling who we got this term from.
This episode has been released in two parts. You can listen to both parts of the episode and subscribe to our podcast on iTunes here. You can also listen to both parts on Cyber Ears here or download part 1 on MediaFire here (14MB) and part 2 on MediaFire here (24MB). 
We're here to discuss the Abbottocalypse and though we can't say the word, we can help you through it. We draw on the article 'Why an Abbott Election Victory would be Good' by Andrew P Street to explain some of the positives for the Left in Tony Abbott winning. In part one we recap the Australian federal election, bragging that we called the election result on our 8th episode and discussing the results in the House of Representatives, Adam Bandt from the Greens holds onto his seat in Melbourne but James Diaz loses his, Nova Peris becomes the first Indigenous female in Australia parliament, a record number of "informal" votes, and this would only happen in Australia! We also question whether Abbott will be "a leader for everyone" as he claims – even from his victory speech and him being congratulated by mining companies it's clear what the party really cares about. We challenge whether he is a leader for Indigenous Australians, people in poor countries whose aid he is cutting or the environment. We also cover the media coverage of the election, including the Murdoch media's role in Abbott's victory – with not just one front page calling for an Abbott victory but many, as well as the mainstream media generally leaving out the Greens and discussion on environmental policies. Also covered on part one of this episode was: Malcolm Turnbull has a The Thick Of It incident regarding an internet filter, more on the dodgy "postal voting" scam, and some updates on our 35th episode, which covered Stop the Arms Fair: we encourage people to listen to Kirsten Bayes on In the Sprawl and Al Jazeera and you can see a recap and photos of some of the Stop the Arms Fair actions here.
In part two of the episode, we continue the discussion on the article 'Why an Abbott Election Victory would be Good', comparing Street's predictions of a hostile Senate that will block Abbott's proposals with the final results. There was some surprising results in the Senate, with minor parties getting in with virtually no primary votes, due to preference deals. As a result, The Greens and others have called for reforms in the Senate voting process. We discuss how Wikileaks did in the Senate, Julian Assange on Rap News being one of the key events of the election (see picture 14), Ecuadorian President Rafael Correa asks Assange to stop making fun of Australian politicians, and Rap News interviewed on mainstream media. Also covered is individuals controlling four different parties in the Senate, and Stevie and ICAS Oceania on the Animal Justice Party's preferences – you can also read Team Earthling's statement and listen to their podcast episode on this issue. While The Greens have done very well in the Senate and things look good for their future, Andrew Wilkie has pointed out that the Senate won't be as hostile to Abbott's right-wing policies as many of us would have hoped. Even though this is the way it has worked out, there is still the opportunity for social movements to get active to limit the damage cause by the Abbott government. There are so many examples of this already occurring, with vegan activism, refugee rights protests against Abbott and Rudd, and even some satirical protest all happening on election day. We also discuss the event 'We Need to Talk about Tony' organised by a broad coalition of leftist groups in Perth, a growing number of protests occurring all around the world (shown visually here), recommendations for alternative media and music, unfuckitup.com, the human rights program that Katie encourages people to donate to, and we accidentally create the new segment 'What's Grinding Our Gears This Week?' – which this time includes the show Kitchen Cabinet.
This episode is brought to you by Coggo from Melbourne Street Medic Collective. You can hear Coggo and the Melbourne SMC team interviewed on our show on our 29th episode! Thanks a lot to Coggo for becoming a member of our show – you can become a member and sponsor an episode too!
Clips (part one):
9 News 'Tony Abbott Claims Victory', The Simpsons shared by News.com.au, Anti-Flag 'The Economy is Suffering…Let it Die', Malitia Army 'Back in Time Sound Effect', Progressive Podcast Australia 'Episode 8', Back to the Future 'Time Travel Sound Effect', CNNNN 'Series 2, Episode 1', Austin Powers 'Sharks with Lasers', The Thick of it (Series 1, Episode 1), Propagandhi 'And We Thought Nation States Were A Bad Idea', NotChukkov 'Tony Abbott – Ladies Man (Ding Dong Song)' – we also encourage people to watch Leigh Sales pwning Abbott – which is briefly featured in that song we played, Austin Powers, Flight of the Conchords, The Chaser 'BABY parody – Tony Abbott'.
Clips (part two):
Lowkey 'Soundtrack to the Struggle', Knowing Me Knowing You 'Bald Brummies Are Back!', Lowkey 'Terrorist (part two)', Derren Brown 'Guess Whom', The Chaser's War on Everything 'Doctor Who', The Micallef Program 'Series 2, Episode 5' – Question Time, Howard Zinn 'Civil Disobedience', The Hamster Decides 'Episode 5', Katie Goodman 'I Didn't Fuck It Up'.